How to Activate Push Notifications in WordPress Site?
WordPress is one of the leading open-source CMS system available in the web sphere. The best thing about WP is that it can be installed on any server, and can be used for building any website, community or networking portal. WP comes pre-loaded with several amazing features and functionalities which you can deploy right out of the box. Moreover, the WP development is supported by a large community of users & experienced developers.
The main reason behind the popularity of WordPress is its flexibility and compatibility both official and third-party plugins, themes, extensions, widgets, etc. Well, it's quite easy to build a WordPress based portal that too without having any technical knowledge but still it will be good that you hire services of an experienced and reliable WordPress developer who will create a portal as per your need and requirement.
In this post, you will read about an essential functionality of WP i.e. Push Notifications.
What are push notifications? & What you can do with them?
Almost every smartphone & web-browser user is aware of what push notifications are. The primary role of push notifications is to inform the subscribers or users about any new addition to the website. You can send a notification regarding new products, offers, sales, deals and discounts, and for plenty of other things. If you want to enhance the user engagement & retention, then push notifications are the best way to bring users back to your portal.
This functionality is used for encouraging repeated visits especially by the daily visitors of your portal.
There are three different platforms which usually have high rate of sending push notifications:
News Sites: Almost all the news sites have a breaking news or just in columns which consist of the latest news. These push notifications play a crucial role in sending out a word out to the new site's subscribers.
E-commerce Sites: All the e-stores organise weekly or flash sales to increase their revenues. With push notifications, they can easily inform their customers about the upcoming or ongoing sales, deals and discounts.
Blogs: A blogger with a good readership heavily relies on push notifications so that he/she can easily inform the readers about the latest content published by them on their portal.
How Do these Push Notifications Work?
All the WordPress based portals have the option to activate/deactivate this push notification function. When you opt for activating the push notification option that particular browser registers the request sent by the website. Almost all the WP based portals depend on the third-party push notification plugins which help them in rolling out notifications.
Here are 5 Best push notification Services/Plugins which will help you reach out to your registered subscribers: 
One of the most renowned notification plugin used by some of the leading websites like UBER, MTV and Zynga. Besides rolling out notifications for web browsers, this plugin also sends notifications to mobile based browsers and also offers a variety of website analytics services. OneSignal has more that 6000 active installs and is one of the most downloaded push notification plugins.
Installed on more that 3000+ WordPress powered sites, PushCrew is the second best plugin for this task. To use this plugin, you need to sign up; then you will get an option to choose between Free or Premium plan. With the free version of this plugin, you will only be able to send notifications to 500 people. To send notifications to mobile users, you have to switch to their paid services.
This plugin has a built-in hub which will allow you to send notifications without using any third-party servers. With the help of this plugin, you will be able to inform 1000 subscribers. As its name suggests this plugin consumes less memory and don't affect the functioning of your site. Push notification for WordPress is fully compatible with to 4.6.1 and higher versions of WP.
This plugin is activated on round 700 WP sites and compared to other plugins PushEngage is a less popular plugin in the directory. But the best thing about this plugin is that it comes with a free sign up, and you can send notifications to 2500 subscribers, and it also supports desktop & mobile versions of all the major web browsers.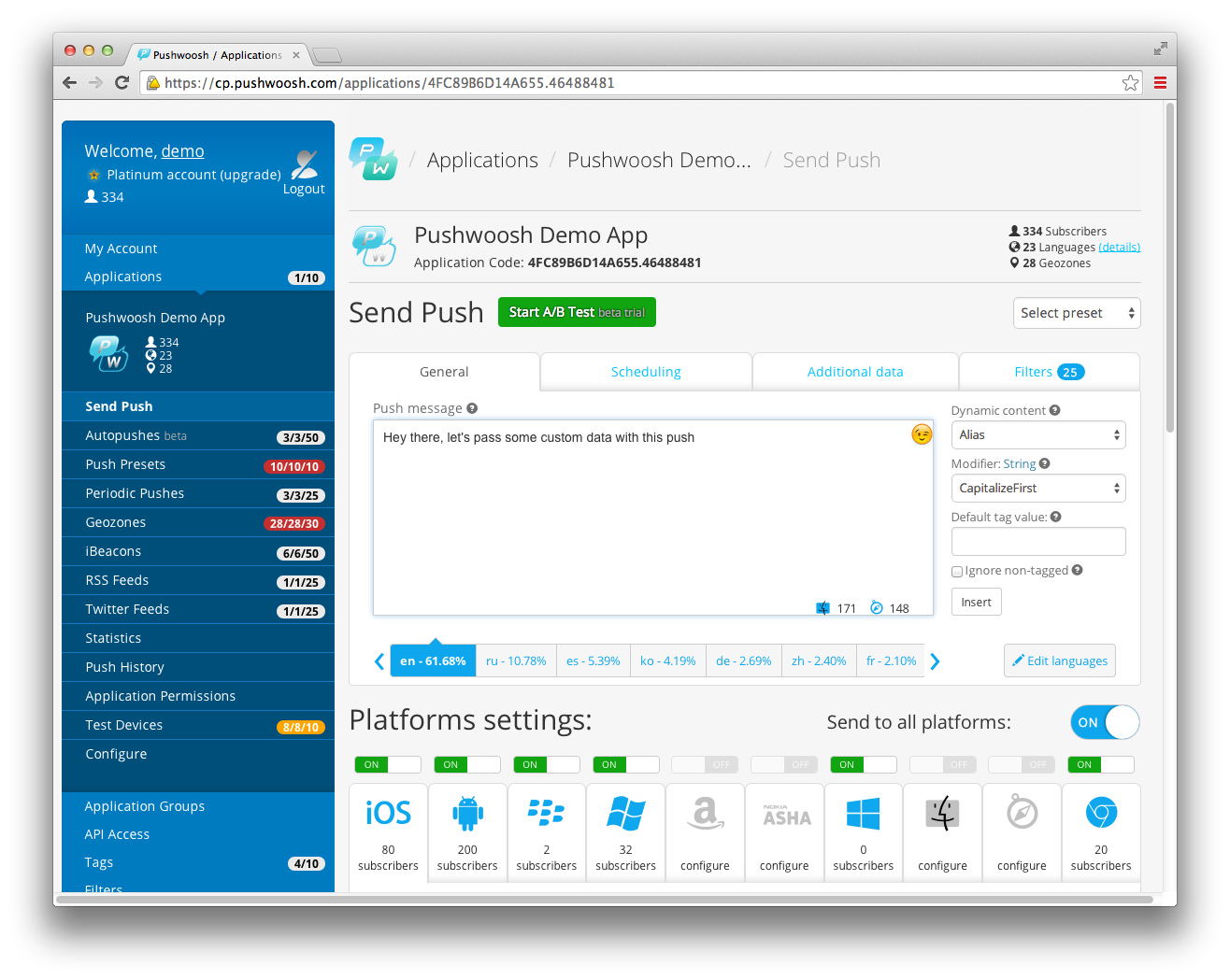 This plugin comes with a Pushwoosh Remote API which helps in rolling out notifications to the subscribers. With the support of this API, you can quickly send out notifications with just a click of a button. The only drawback of this plugin is that it only offers premium service package which comes with a hefty price tag. Moreover, this plugin is quite complicated and relies on third-party servers to roll out notifications.
Author Sophia Phillips has been working as a professional in WordPrax Ltd- WordPress website development company and loves sharing information about leveraging multiple benefits of WordPress CMS in the best possible manner. Currently, she has an impressive count of WordPress development-related articles under her name.
Social Profiles: 
https://www.twitter.com/WordPrax
https://www.facebook.com/wordprax
https://www.pinterest.com/Wordprax/